Only posted a trailer pic of the Sportster, thought I would throw this one up.
The awning damage was from Hurricane Laura. Still waiting on the contractor to fix that.
Whenever this new one passes, I'll get a pic of my buddy's '65 202 I've been working on.
I think he's fixing to put it up for sale.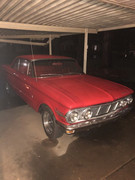 JT