Albert's 65 289, polar white, black buckets, 5 speed, Autolite 4100, ps, pb, factory tach, crites hood, headers, dual exhaust
---
Posts: 352
Joined: Tue May 29, 2012 10:30 am
Location: Hibbing, Minnesota
Awesome!!!!.... Motor that is! A perfect moniker for a "back at ya, in your face" build. I've always considered a brand X motor in anything else as BLASPHEME!
65 Cyclone 460W, C4, trans brake, CalTracs
64 Cyclone (son's) 408W 8 stack EFI 6speed, Winters qc rear
64 Cyclone (son's)347, 4speed, mini tubbed 9"
1965 Caliente, 289, 4 speed, buckets, 51k miles
1969 428 CJ coupe (son's)
1965 Cyclone, tube chassis, 514bbf, glide w/brake
WARNING: all of my vehicles are armed with anti-thrift devices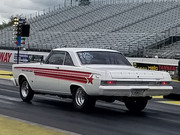 ---
if you have to have a chevy,,,then by all means make it FORD powered,,,
years ago I tried my best to buy a chevySS ,EL CAMINY O, was being sold with out engine and trans,,,was a good looking ride........I had a spare 289 c4 sitting in the shop and no place for it to go....so I thought I'd mess with those chevy boys at the RR....AND BUILD THIS THING ...the owner was a friend of mine and he knew I was all ford ,and ask what was I gonna do with it.....I honestly told him......he flat refused to sell it to me......I was going to take it to the super chevy show,,,,knowing I would get thrown out after I opened the hood,,but back then at my age a healthy dispute was right up my alley....today ,I wouldn't let it sit in my drive way........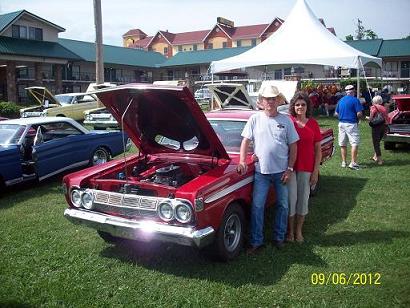 pop/glenda
---
Looks like a well built beautiful car, my first car was a 55 x.
But that is just stooping to their level.
Appears the owner has enough money, couldda spent it on 57 Fairlaine,, with a Sohc,,, there's a winner,, imo
Fred
I'd rather do it myself if it's done right or not,,,isn't that what hotrodding is all about?

---
Posts: 349
Joined: Mon Jan 27, 2014 1:22 pm
Location: Saskatchewan, Canada
My opinion...waste of a good motor. But I get it, to win trophies you have to do radical things.

A 57 Ford 2 door sedan, now thats one of my dream cars!
1964 Caliente hardtop, 302/T5/8.8"
---
redhotcomet wrote:My opinion...waste of a good motor.
Almost felt the same way and a '55 Ford is a much better looking car.
See Ya,
Mike
Mike's build thread
viewtopic.php?f=9&t=13058
---
Yes. agree that motor in a 55. 56 or 57 Fairlane 2 door would be the ticket!
Albert's 65 289, polar white, black buckets, 5 speed, Autolite 4100, ps, pb, factory tach, crites hood, headers, dual exhaust
---